Expert Witness Service
---
Antoinette Designs offers unrivalled footwear expertise and experience backed up by one of the largest international footwear related archives of shoe designs, trade journals, magazines, photographs, components and materials.
The archive is vital in providing prior art/evidence used to resolve intellectual property and Patent disputes. This teamed with extensive expertise, footwear trade knowledge and our reputation for keeping to estimated completion dates gives our clients the best results.
The majority of cases are settled out of Court however we have testified at the Royal Courts of Justice, London and the Presiding Judge took the unusual step of commenting on the Expert Witnesses in the case, therefore our evidence/ability in Court is well documented.



Antoinette Shoe Design
---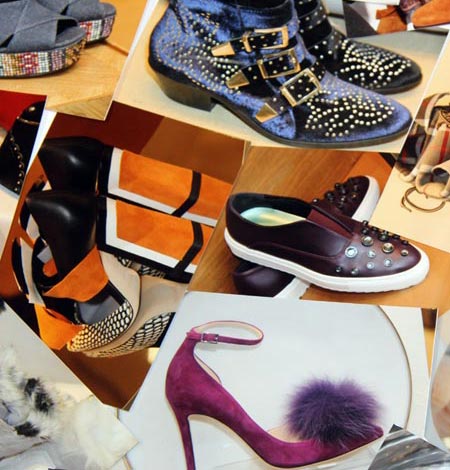 Antoinette Designs – an International design consultancy business, founded by Rosemary Wright in 1973 and expanded over the years, specialises in designing fashion ranges and inventing new constructions. The team designs ranges of footwear for all genders, types and constructions of footwear world wide and have been involved with the latest most innovative high tech materials as well as being experts in all aspects of leather, synthetic materials and technical embellishments and processes. We are involved in taking first prototypes to mass production with a vast knowledge of tooling up to production and production machinery and processes.
The Companies Antoinette Designs has designed for include, Skechers USA, Columbia Footwear USA ,Stride Rite Corp USA, Rocket Dog USA, Doc Marten Ltd, Pentland Industries Ltd, Rushden Ablett Ltd, Browning Enterprises, Brown Shoe Corp USA, Hush Puppies Ltd, Tesco PLC, Marks & Spencers PLC, Next PLC, Mothercare, BHS, La Filanto Italy, Calzaturificio Romagnola Italy, Chasseurs Ravel Ltd, Novi Importers Ltd, Ascot International Ltd and many other very prestigeous companies.

Brand Creation
---
Antoinette designs specialises in Brand Creation and creating new categories of footwear with marketing to ensure commercial identity with point of sales artwork and logos.
Shoe Photography
---
For restricted clients, Antoinette Designs photographs footwear in the fashion capitals of Europe and the USA on and covers most of the major Shoe Fairs in photographic and art work form.